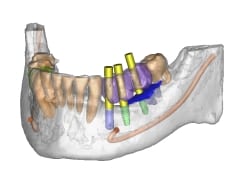 In complex implant cases, our doctors utilize special computer software to provide comprehensive information about his patient's oral anatomy and the detailed blueprint of his planned implant procedures. Digital Dental Implant Planning is proprietary dental software that imports the images from the I-cat three-dimensional scan and reconstructs it in a manner that allows our doctors to select and place dental implants in an ideal position utilizing a "virtual surgery". In some cases, Tampa Bay Periodontics and Implant Dentistry will perform the virtual surgery and take the information he has learned to the mouth to be utilized during your actual surgery.  When additional precision is necessary, Digital Dental Implant Planning can be uploaded over the Internet and used to fashion custom-made surgical drill guides to ensure that the dental implants are placed in the positions planned during the virtual surgery. The surgery is completed with better safety and predictability.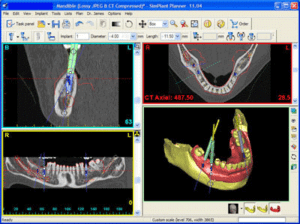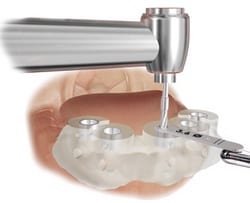 Request Your Consultation Today
We are here for you! Whether you have more questions about your procedure or are ready to schedule, our team is waiting to help.
Request Consultation