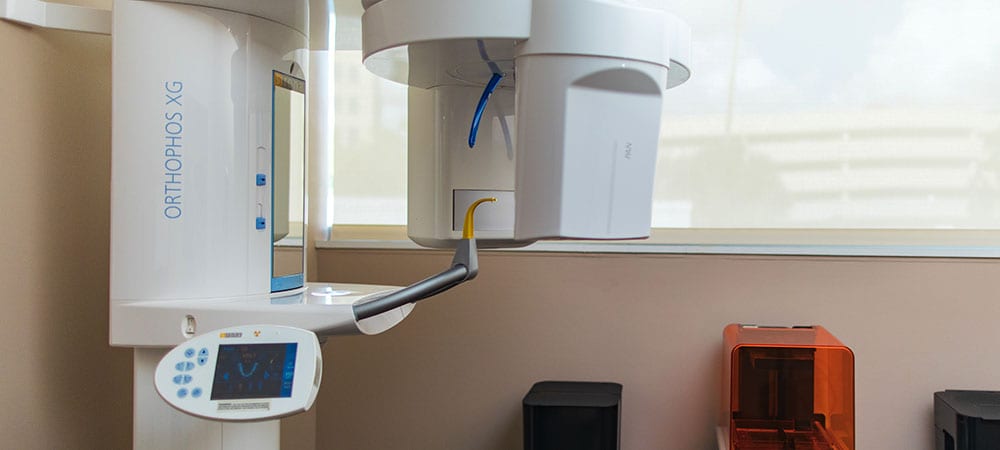 Part of uncompromising quality of care is investing in some of the leading technology available.
Simply put, the High Definition Cone Beam CT Scanner is a three-dimensional radiographic imaging device designed specifically for dental specialists.
With the cone-beam three-dimensional scan, our doctors can capture and more accurately analyze complete three-dimensional views of critical anatomy for more thorough analysis of bone structure and tooth orientation to optimize implant treatment and placement and selection of the most suitable implant type, size, location, and angulations prior to surgery.
When planning a case, you can imagine the huge diagnostic advantage this technology offers in seeing teeth, jaw, and nerves in three dimensions in precisely calibrated measurements.  The technology assists in determining whether there is sufficient bone present or whether important nerves are a safe distance away. We feel that the acquisition of this technology was a tremendously important benefit for our patients.
This means that this non-invasive, painless and comfortable procedure can greatly enhance our ability to accurately predict the success of the implant and other procedures over traditional methods. It can help avoid unnecessary surgery and guide our doctors toward less invasive surgical procedures.
Patients that are concerned about reducing risk and increasing the likelihood of a successful outcome during implant placement, tooth extractions or other procedures should seriously consider the diagnostic advantages of utilizing the high definition cone beam CT scanner.
This is all accomplished, right in our office, in a comfortable, open environment in less than a minute. With the high definition cone beam CT scanner, usually, in one office visit, our doctors can diagnose and discuss your situation with you with a great degree of accuracy and help you make an informed decision on how to proceed.
Learn About Our Doctors