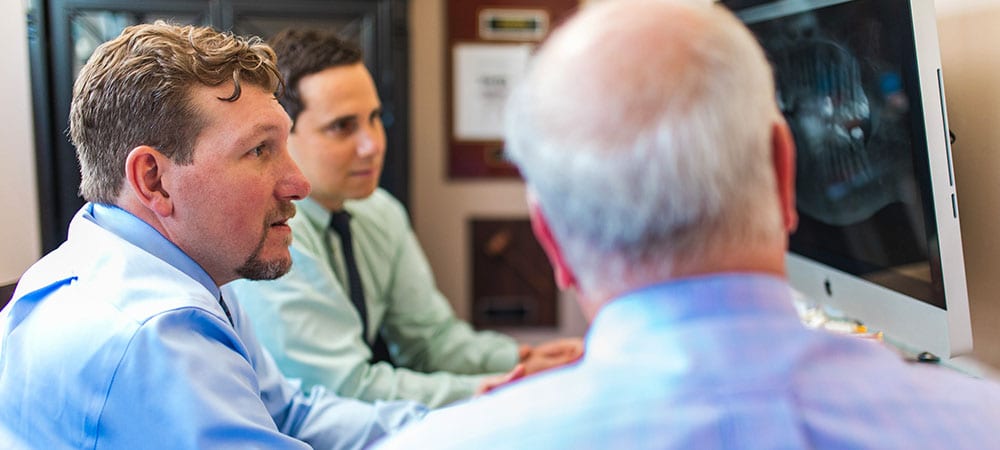 At Tampa Bay Periodontics and Implant Dentistry, our doctors believe that continual advancement in dental technology and techniques are critical for enhancing the experiences and outcomes for their patients. We consistently observe, audition, and review the latest dental technologies. Our doctors select and invest in only the highest-quality and research-backed devices to improve your treatment. Many of the procedures performed in our office can now be accomplished more comfortably and in less time with the help of the most advanced dental technology available.
Modern Technology
In addition to offering the latest procedures and techniques in implant dentistry and periodontics, our practice is proud to be among the most technologically advanced offices in the entire country. This technology is also incorporated into our patient records management system which is one of the most innovative systems ever conceived. We utilize a HIPAA compliant "Cloud" based practice management system which ensures all information is encrypted for complete protection. As all data is kept off-site, none of your records are vulnerable to loss from fire, flood or even theft from our office.
All of this means that we take the security of your health and private information very seriously. We make every effort to keep your personal information safe, including the utilization of the most secure operating systems throughout our office to streamline employee training and ultimately keeping your records secure.
HIGH DEFINITION: Cone Beam Computed Tomography
We offer High Definition 3D CBCT scans, allowing us to diagnose tooth problems and bone pathology from the inside-out. In the past, traditional dental X-rays were only able to provide limited information about the condition of your teeth and jaw bone. Advances in this technology allow our doctors to see fine detailed tooth and jaw anatomy to diagnose conditions that may have been previously undetectable. Each tooth and the surrounding bone can be viewed in 3D, as well as cross-sections in as little as 0.1mm increments. This digital technology assists in the planning of dental implants, bone grafting procedures, wisdom teeth extractions, and suspected pathology such as cracked or impacted teeth. This is a non-invasive method of determining how much bone is available for dental implant placement and allows us to plan your dental implant treatment before any incisions are even made. Dental implant surgical guides can even be made that allow for dental implant placement without any incisions or stitches! By using High Definition CBCT technology, we are able to coordinate dental implant placement precisely and accurately with your restorative dentist to achieve the most natural, esthetic and functional results possible!
Digital Radiography
When radiography is necessary for diagnosis and treatment, we utilize digital radiographs as opposed to traditional X-Ray films for our patients. This allows for crisp, clear, accurate images and translates into approximately 90% less radiation exposure for each film! We are also able to share these images with your dentist avoiding the need for taking additional radiographs.
High-Resolution Wireless Digital Cameras
For thorough diagnosis and treatment planning, accurate imagery is necessary to assess your initial condition. In addition to the highest resolution CBCT and digital radiography available, we take photographs of patients with high resolution wireless digital cameras that transfer your photographs to our management system securely and wirelessly! We are able to document treatment results or areas of concern with before, during, and after photos with amazing detail. These photos allow us to help communicate with you and your dentist as well as to aid in the comprehensive treatment planning of your case.
High Definition Displays in Each Room
Each of our rooms is not only equipped for diagnosis and treatment but also for education! We know that you don't look in your mouth every day, or have the equipment in your home to look at each tooth thoroughly. Our commitment is to educate our patients so that they know as much about their mouths and specific treatment as possible. Each of our rooms is equipped with High Definition monitors for displaying photographs, radiographs, as well as educational materials related to your treatment.
3Shape Trios Digital Scanner (Digital Impressions)
In the past, impressions were created with the goopy dental putty. Using a small scanner taking multiple pictures of your teeth, we can make higher quality, more accurate digital impressions of your teeth and soft tissues using superior scanning technology. 3Shape Trios Digital Scanner is the world's first wireless scanner, allowing our doctors to scan unrestricted by wires. This helps to optimize accuracy for our doctors and, most importantly, for our patients by making scanning easier and faster.
Platelet Rich Fibrin
Platelet Rich Fibrin (PRF) is a second-generation platelet and leukocyte (white blood cell) concentrate that is utilized as a scaffold containing completely natural growth factors. PRF is a by-product of a patient's own blood, which aids in healing after dental procedures, such as tooth extraction, as well as to promote healing around the bone or soft tissue grafts and dental implants. Utilizing the PRF process, our doctors are able to take advantage of your body's natural healing capacity. The concentrated platelets and white blood cells in this newly formed scaffold not only immediately magnify the release and recruitment of growth factors and white blood cells but also allow for these benefits to be preserved at the designated site for a longer period of time, helping to ward off infection. This specialized centrifugation process of the patient's own blood allows the body's natural healing potential to become exponentially more effective and efficient.
With a simple blood draw and an advanced technology protocol, PRF serves as a natural alternative with superior results and lower risks compared to artificial components. PRF can be used in all patients and may even be recommended in patients who use anticoagulants or smokers to promote the healing of soft tissues and reduce the risk of complications after surgery. This platelet therapy helps to regulate inflammation and increase the speed of the healing process. The end results are improved healing response and significantly less recovery time.
3D Printing of Surgical Guides
Virtual dental implant placement planning along with 3D printers can be used by our doctors to increase the accuracy of dental implant placement, decrease risks, and improve clinical results. At Tampa Bay Periodontics, we are able to offer our patients this service with our in-house 3D printer. We are able to quickly scan the anatomy of a patient's teeth digitally with our intraoral scanner and CBCT scan. With this data, we are then able to plan your implant(s) in a specialized software program with the highest degree of accuracy and send this plan to our in-house 3D printer. By using this protocol, we are able to consistently provide some of the highest accuracy surgical guides to guarantee you the ideal possible surgical outcomes.
S.M.A.R.T. Grafting
Our doctors at Tampa Periodontics and Implant Dentistry have been trained in a revolutionary minimally-invasive bone grafting technique – the S.M.A.R.T. technique. This technique was developed by a leading prosthodontist Dr. Ernesto Lee.
Request Your Consultation Today
We are here for you! Whether you have more questions about your procedure or are ready to schedule, our team is waiting to help.
Request Consultation