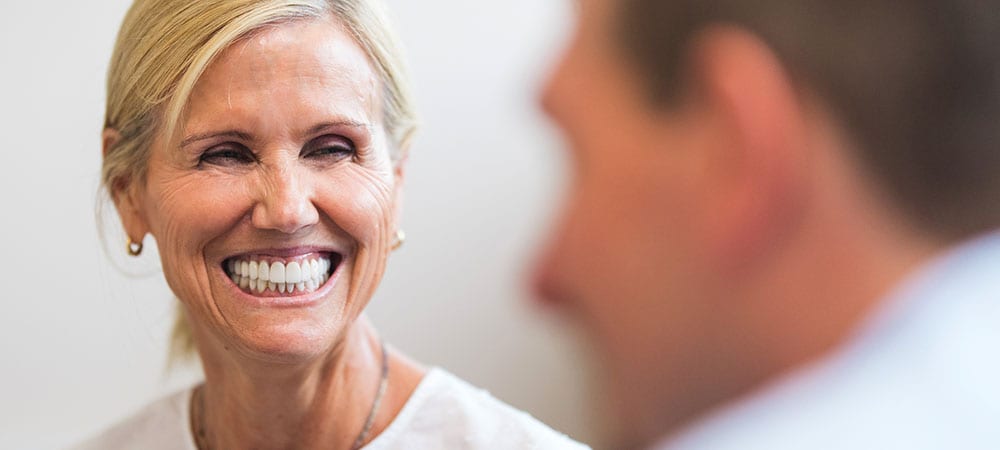 Dental treatment is an excellent investment in you, your health and your smile. Dental disease is often progressive and only gets worse with time, so it is important that the necessary treatment not be delayed. Financial considerations should not be an obstacle to obtaining the care you need, so we offer several financial options. Our staff will review options that can help make your care affordable.
Our fees are based on case complexity, the time needed, and the skills, care, and office environment provided by our doctors and our team. We deliver the finest care at a fair cost. Payment for services is expected at the time of treatment unless an alternative financial arrangement has been made with our practice administrators.
Initial Examination
We ask that you be responsible for the payment of examinations/consultations and radiographs. Once the initial examination is completed and/or your doctor has developed a treatment plan, anticipated fees and payment options for treatment will be reviewed with you by a member of our staff. This will be done in a caring, open manner because we believe it is important for you to know what to expect financially. Once a comfortable financial arrangement is established, there is one less thing to worry about as you begin down the path to better dental health.
Payment Options
Payment in full is expected at the time of service unless prior financial arrangements have been made with our practice administrators.
We gladly accept: Cash, Checks, Mastercard, Visa, American Express, and Discover

We have partnered with three companies, Care Credit, Lending Club and Springstone, who offer low monthly payments for patients who choose to finance their dental treatment. Options provided by these companies include a six month no interest installment plan and various extended plans that provide affordable payments up to seven years. The application process is simple, completed online, and can be expedited with the assistance of one of our practice administrators. In most cases, they'll have the answer within minutes.
Insurance
Many of our patients have dental insurance benefits provided by their or their spouse's employer. As a courtesy, we work to assist them in utilizing these benefits. We are happy to do so unless the dental benefits contract interferes with the best interest of our patients' dental health, their desires or priorities, or our ability to provide the time, skills, and materials necessary to achieve an optimal result. For this reason, our practice does not participate in any capitation or PPO programs that reduce the reimbursement to our practice. Quite simply, reduced fee programs force dental offices to see a higher volume of patients. This would not allow our doctors or our team to dedicate the time necessary for an exceptional, comfortable experience. Many of our services require techniques that are labor and time-intensive. Less than the optimal result would be expected without exceptional materials and sufficient time to do it right the first time. Many of our patients are in PPO programs and are able to see our doctors as an out-of-network provider. They trust the recommendations of their dentist and/or friends and value the high-quality care and the environment we strive to provide.
Please keep in mind that you are fully responsible for all fees charged by this practice regardless of your insurance coverage. Your insurance company is responsible to you. There is no direct relationship between our practice and your insurance company. The type of plan chosen by you and/or your employer determines your insurance benefits; dental insurance policies vary. While it is your responsibility to understand your insurance policy, we will do what we can to help you understand and maximize your insurance benefits. As a courtesy, we will submit claims to your insurance company for procedures performed in our practice. In the event that your insurance company should request additional information or x-rays to process your dental claim, it will be our pleasure to provide them the information needed as well as a copy for you for any necessary follow-up.
Our treatment recommendations are based on a thorough review of your medical and dental history, our examination of your mouth, and discussions with you regarding your desires and priorities. Based on our professional training, proficiency, and experience, a personalized treatment plan deemed to be in your best interest is developed. The treatment plan is developed regardless of whether insurance is involved or not, and also regardless of whether the insurance company is willing to pay on that particular procedure or not. Insurance companies pay on dental services based on premiums, contracts, and exclusions. These are important business decisions for them but have nothing at all to do with quality dental care. Lack of insurance coverage for a given service is in no way an indicator of the value or appropriateness of the treatment!
We ask that you be responsible for the payment of emergency visits, examinations, consultations, radiographs, any treatment provided on the day of an examination, and maintenance (cleaning) visits. The office will submit your insurance claim so that your insurance company may reimburse you for these procedures.