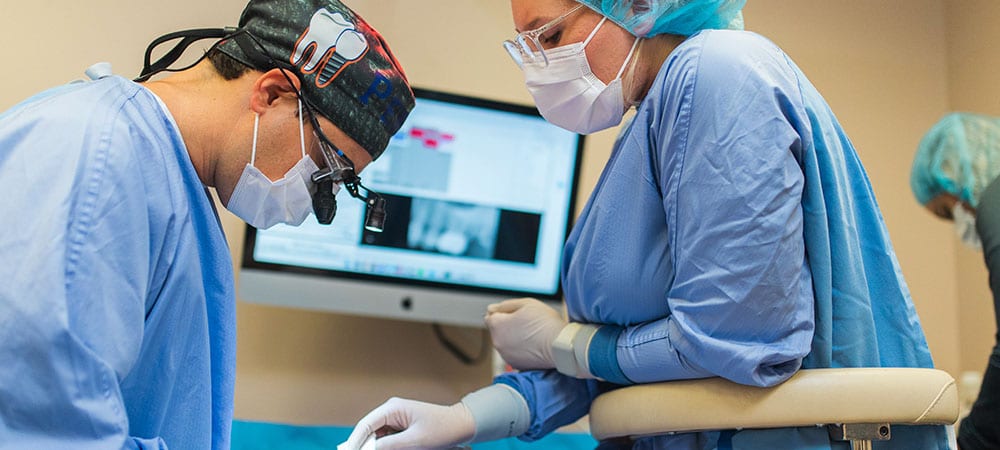 LANAP
(Laser Assisted New Attachment Procedure)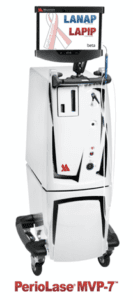 Our doctors at Tampa Bay Periodontics and Implant Dentistry offer the FDA-approved Laser-Assisted New Attachment Procedure (LANAP™) as an alternative therapy when treating periodontal (gum) disease. The LANAP protocol is the only laser periodontitis treatment cleared by the U.S. FDA that is clinically proven based on scientific evidence to regenerate new gum tissue, ligament and bone. Simply put, the LANAP protocol can re-grow the tissues and bone lost to periodontal (gum) disease, and has the science and research to prove it.
The PerioLase used in the LANAP™ protocol is the Millennium MVP-7 Nd: YAG laser. The PerioLase utilizes a small, flexible laser fiber about the width of a paperclip. When placed into the periodontal pockets, the laser energy emitted through this fiber precisely removes the unhealthy diseased gum tissues lining the pocket while leaving the healthy gum tissues intact. After the unhealthy gum tissues have been removed, the teeth are thoroughly cleaned and the laser is utilized at a different setting to stimulate the formation of a blood clot in the pocket. This blood clot assists with sealing the healthy gum tissues to the root surface. The LANAP protocol is a gentle, conservative, non-invasive method of treating gum disease without cutting, suturing or removing tissue. In many cases when using the LANAP protocol there is little or no loss of gum tissue volume and depending on the severity of the gum disease the whole mouth can be treated in one day.
Patients with moderate ­to severe gum disease can especially benefit from the LANAP protocol. The LANAP protocol is also an excellent treatment option for patients who are fearful of conventional scalpel surgery and patients taking certain medications, such as blood thinners. This provides an effective method to treat periodontal disease with a faster recovery. It is important to note, however, that not every patient may be a candidate for laser surgery, as it all depends on the individual patient and their specific needs. Our doctors will be happy to go over all of your treatment options with you and come up with an individualized solution most appropriate for your personal case.
---
---